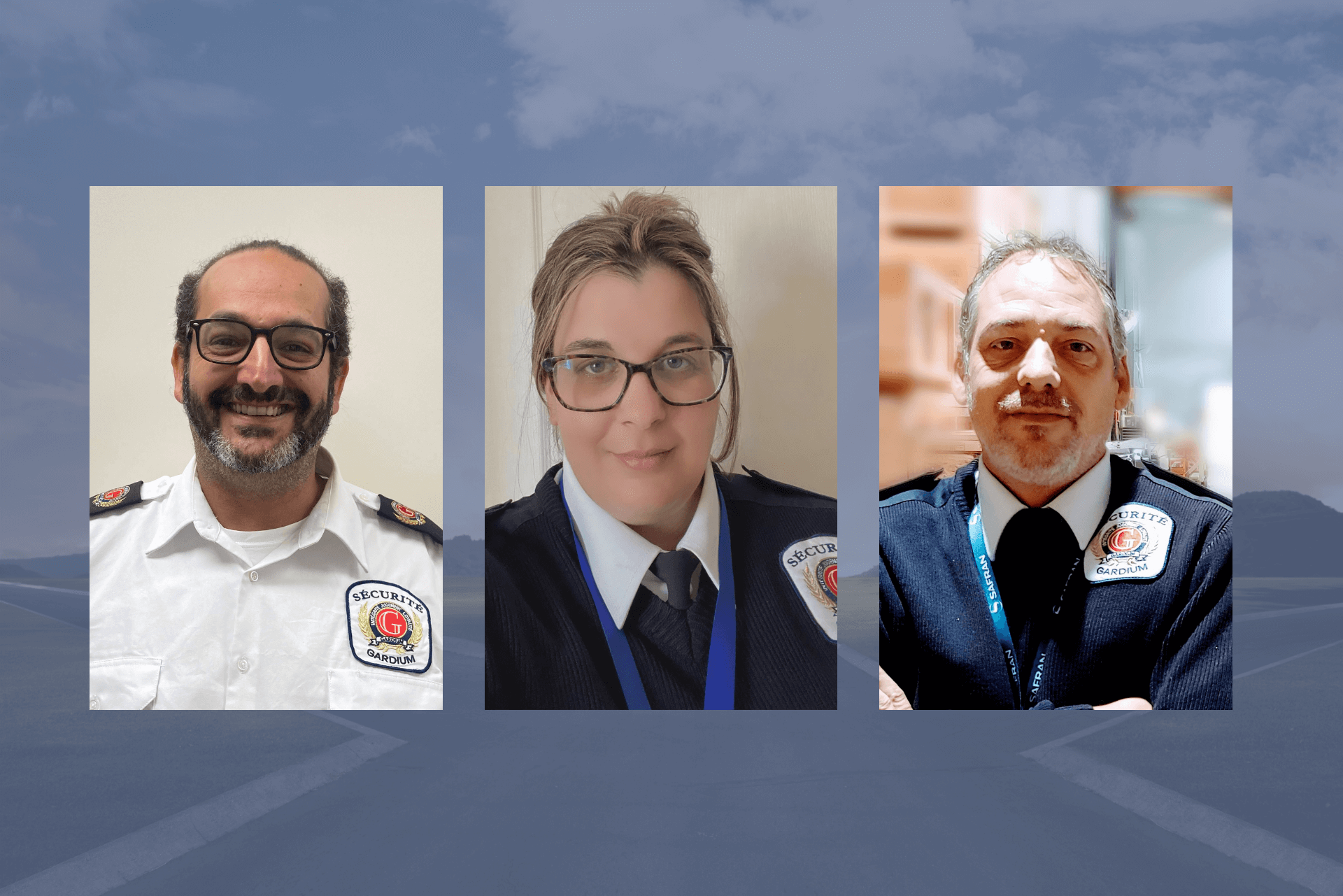 0
In 2020, many people lost their jobs overnight. They found themselves in a situation where they had to act quickly, without the opportunity to plan ahead. For some, the crisis became an opportunity for a career change. This is the case for Sylvian, Mireille and Mario, now employed at Gardium, with whom we spoke.
What was your occupation before the crisis? And how long had you been doing this job?
Sylvian Nique, Team Manager (Work Conflicts)
I had been a store salesperson for a telephone service provider for six years.
Mireille O'Sullivan, Security Officer (Access Control)
Before the crisis, I was the manager of a sporting goods store in Laval. I had been in that role for almost four years, but I had worked there for a total of ten years.
Mario Guido, Team Leader
I did a lot of jobs before the crisis. The last one was forklift operator, a role I held for a year and a half.
What brought you to the security industry?
SN
I worked in security 23 years ago for the Avant-Garde Group (which has since been acquired by Gardium). During the first wave, the stores closed and all the employees had to stop working. One thing was certain: I didn't want to stay on the Canadian Emergency Response Benefit (CERB) for long! After two weeks, I couldn't take it anymore! My father-in-law, who is an employee of Gardium, told me that they were looking for staff. I jumped at the chance.
MO
I was looking for a new challenge, since the store where I was working had to close. A family member suggested that I join Gardium, as she was an employee herself. I submitted my application and they contacted me quickly. Joining a company in this field is like a childhood love, because I already had the desire to study police techniques.
MG
The company I worked for gradually downsized and then closed its doors completely while the situation calmed down during the first wave. The security field was a career path I had been pursuing for awhile. I had been talking about it for 10 to 15 years, but it never came together. My wife completed the security training just before the pandemic started. As soon as she finished her course, she got a job at Gardium. When I saw that there was a short-term need for positions requiring a temporary permit, I seized the opportunity.
When you joined Gardium, did you think that security would become your daily life and your new career?
SN
No, I thought I would work in security until the stores reopened, since I was a very good salesman. When they reopened, I went back to sales and it was only two weeks before I quit. I missed security too much!
MO
I knew very quickly that this would be my new career. After only two weeks, I decided that I would stay for the long term. It was like love at first sight! After all, having studied social work, this job ties in with both my formation and my previous work because of the human contact and the customer service approach.
MG
From the beginning, I had a good idea that this would become my career, as I had already considered it when I was younger. At the time of the crisis, I had an opportunity and I grabbed it with both hands! I wanted a career in the field and the door opened. After only two months in security, I already knew that I would not go back to my old job.
What motivates you the most in your new position?
SN
Solving problems. Whether it takes a few hours or even a few days, that's what stimulates me the most.
MO
I enjoy being there for the public and performing an essential service. My first assignment was in a senior citizen residence. The residents would come looking for me. We were often the only people they would see in a day. We had to protect them, but also comfort them. Being there for people and creating bonds is what motivates me!
MG
A little of everything. At first, I was a team leader for the temporary agents, mainly those on the screening sites. I handled supervision and job assignments. Now I have more administrative duties, but also rounds and inspections. I like having more responsibility.
Is there anything you miss about your former career?
SN
The people I worked with. I had a great team. Fortunately, I'm very well-surrounded here, too!
MO
Personally, no. On the other hand, I find that my former career has given me a background that plays a big role in my interactions with people and in the way I do my new job.
MG
Not that much, no! (laughs) It wasn't a bad job. My main duties were loading and unloading delivery trucks. So, my new duties are a little more varied.
If you had to do it all over again, what would you do differently?
SN
I probably would have taken the leap sooner. The crisis was like a kick in the pants to get me to do it.
MO
I would have started younger! I would have taken my security training right out of high school.
MG
The only thing is I would have taken the path way before!
What would you say to someone you know to convince them to join Gardium?
SN
If they joined my team, I could be their boss! (laughs)
MO
Gardium is like a big family. You don't feel like a number. The managers listen to you, they are there for you and answer any questions you have. They understand that when you have good bosses, employees are more efficient. They are in tune with what their staff wants and offer us a great deal of flexibility, especially with regard to schedules.
MG
Working here brings a lot of stability. Plus, we're not treated like numbers, which isn't the case everywhere. That makes all the difference!
What are your goals for the future?
SN
I want to finish my career here! I'm going to do everything I can and give everything I can to keep the company moving forward and growing.
MO
I'd like to move up, climb the ladder and learn about new aspects of safety.
MG
I like the position I have now. I could very well keep it forever. I want to do as much as I can in this position. However, if the opportunity arises, I am open to accepting another position with more responsibility. But I'm fine where I am.
Are you interested in a new career in security, too? We are always looking for new agents. To learn more about security training or to apply for a position, visit our Careers Page.