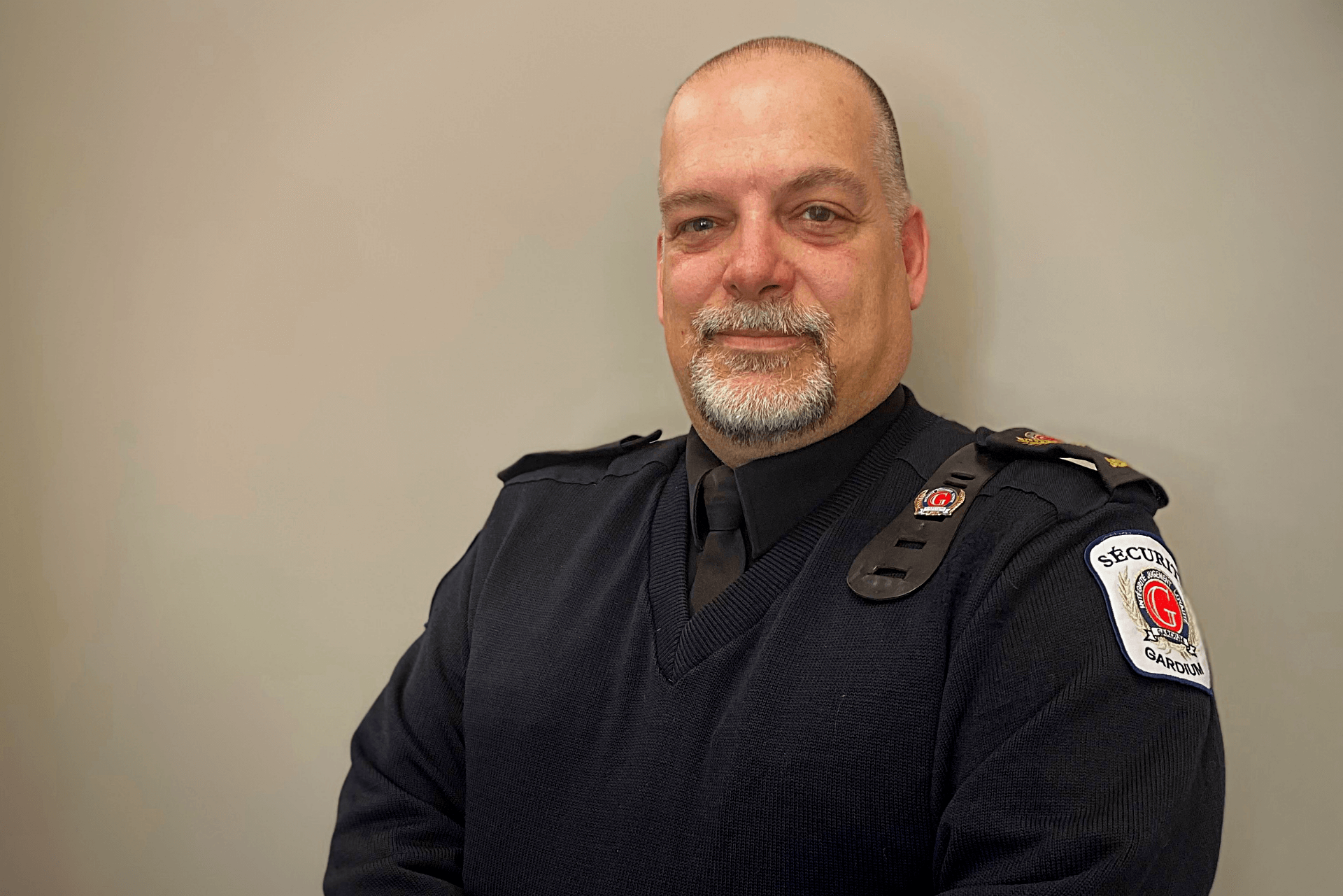 0
Today, the Gardium family has more than 2,400 members. Some of them have been contributing to the company's growth for quite awhile now. Among these long-term employees, we spoke with Luc Gauthier, sergeant in the Rover division, and asked him a few questions to help you learn a little about him.
Tell Us about Your Background.
I started out in the security field in 1999 with a company that no longer exists today. I really loved my experience in that environment.
Then I joined Gardium in 2008. This is my 13th year with the company. I started in the Saint-Eustache sector where I was an administrative patroller. In a way, I was the eyes of the administration during the night shifts. I went to see the agents at the different sites to make sure that everything was going well. It's not the same as being a mystery shopper because I was wearing a uniform.
Since then, I have worked in almost every area of security, apart from investigations. I have been on jobs in factories and mines in the far north, patrolled airports and government buildings (provincial), assisted with loss prevention, labour dispute management, protection at large galas, escorting cash in transit and even video surveillance!
What Brought You to Gardium?
I had a friend who worked there. I did some research and liked the image the company projected, which is what I was looking for in a security employer. Gardium had the same values as my previous company, so I approached them.
Gardium listens. At the time, I was living in Mont-Laurier and I had a project. I wanted to create an office to patrol the upper Laurentians and, from the start, I shared this idea with Gardium. To this day, the project has not been realized, but the idea was well received and I really appreciated it.
Also, the hiring process was very quick! I remember having the interview on Friday at Gardium's offices. It was for a position in Saint-Eustache. After the interview, I made a few calls to find a housing option there. Before I even left, the president Dany Laflamme ask me if I could to start on Sunday evening. It was a great start, I loved it!
What Is Your Current Role?
I am a sergeant in the Rover division, a flying squad of sorts.
The purpose of this division is to fill last-minute requests, absences from positions that require specific skills or vacancies.
My job requires me to be available at all times and to take various specialized training courses to be able to intervene in a multitude of situations.
For example, we have a client in the electronics field. I went through the internal process and training as if I were a new agent going to work for this company full-time.
It's a big contract where we have to do guarding, access control, video surveillance, parking management, foot patrol and more. Each shift requires 4 or 5 officers.
During absences and vacations, we require outside replacements, as our regular staff cannot provide them. The agents sent as replacements must be able to navigate the computer system in order to activate the temporary access card for an employee who has lost his or her card, or to identify a vehicle parked on the premises, for example.
The client needs personnel trained to their needs, and that's what the Rover division provides!
What Do You Like Best about Your Current Position?
I would say the versatility. From one day to the next, it's never the same and it's very motivating.
What Are Your Main Strengths as an Employee?
I've already mentioned versatility, but it's essential in my current role.
I am very flexible with tasks and work schedules. I'm fortunate enough not to have sleeping problems, so I have no difficulty taking night shifts.
And also, as people who know me will tell you, I am very punctual, even arriving early. As an anecdote, I've had people worry about me because I didn't show up 10 minutes before my shift started!
I have a positive attitude and am always willing to help. I have a hard time saying no, especially when it comes to helping out.
I was inspired by the words of President Dany Laflamme. He said to look at Gardium as if it were our own company, and that is what guides me to always do my best.
What Would You Say to Convince Someone You Know to Join Gardium?
The management team shows a lot of respect to its agents. They act with a certain paternal touch, like a good dad. We never use numbers to refer to employees, but rather their first or last name. That's something that means a lot to me.
In the last year, I have a cousin who lost her job because of the crisis. After I told her about Gardium, I recommended her application. About 30 minutes later, it was settled! That's a testament to the trust that exists within the company.
What Are Your Aspirations for the Next Few Years?
I want to continue my ascent within Gardium.
I also still have in mind my project of patrolling in Mont-Laurier. Who knows? Maybe it will come true!
—
You want to join the Gardium family? Send us your application now by filling out the form on our Careers page.