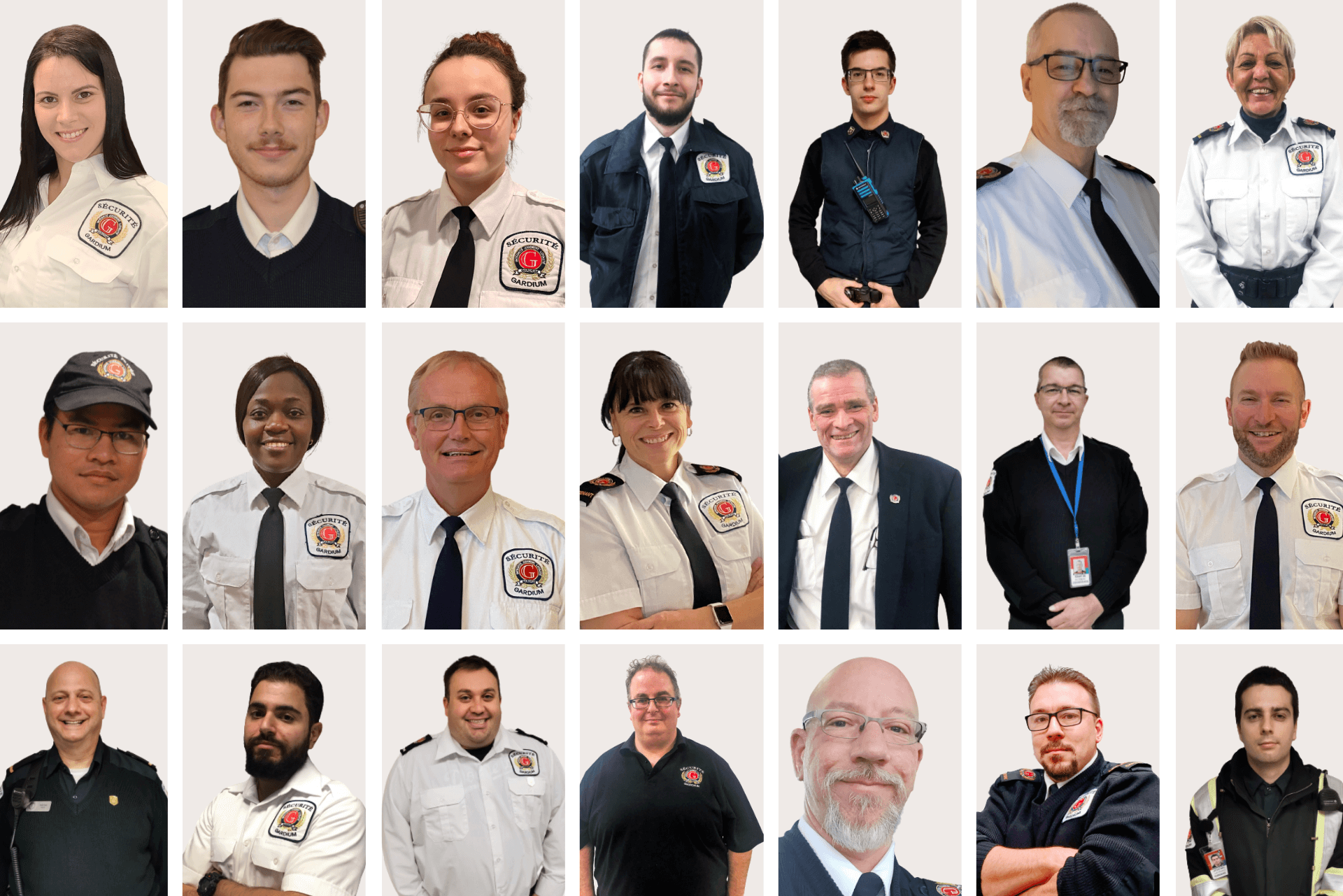 0
The year 2020 has significantly transformed our lives in many ways: how we work, socialize, shop or even celebrate with our loved ones! It's therefore no surprise that it has also had a major impact on the security industry. How has Gardium Security reinvented itself? To discuss this, we spoke with Dany Laflamme, President and CEO.
Introduce Yourself Briefly.
I've been a partner since almost the very beginning of Gardium. I was named president of the company in 2012.
I have also been the president of the Association Provinciale des Agences de Sécurité (APAS) for three years now. I was honored to be elected by my peers to serve in this role.
How Did the First Few Months after the Start of the Pandemic Go, Especially in Terms of Your Security Expertise?
The greatest impact was on the level of customer requests for security guards at their sites. We had a huge demand, both from existing and new clients, which led to massive hiring. In this regard, I am proud to say that Gardium was at the front lines when government authorities declared the pandemic.
The biggest challenge was managing growth. To do this, we had to quickly set new priorities. First, we made sure we were meeting the security guard needs of our existing clients, as well as the need for agents in our other departments.
Then, we focused on new clients in two priority sectors: health care (hospitals, screening tents, retirement homes) and food.
The Need for Security Guards to Control Access Has Skyrocketed. What Actions and Decisions Have Been Taken to Address This Urgent Need, Both at the Provincial Level and for Gardium?
In times of crisis, the Bureau de la Sécurité privée is authorized to issue temporary permits (or "pandemic" permits). These allow us to respond more effectively to emergency requests by recruiting people with little or no experience. We supervise this new staff with the presence of patrollers in the field to support these new agents in their tasks.
In addition, since the economy was on hold, we called upon the personnel in other departments at Gardium to come and lend a hand to the Security division.
Our employees helped in a variety of ways, from direct field work to hiring, dispatching, training and coaching.
The pandemic also allowed us to recruit talented people. We had some nice surprises! We have had people from other sectors who were planning to join us for only a few weeks. In a short period of time, the prejudices they might have had about the image of the security guard, often seen as the bouncer at the bar door, fell away. They saw what the job is really like, and some of them will stay with us for the long term.
To help with recruitment, we authorized the hiring of a new human resources director, Guillaume Lapointe. We also called on Uzinakod's marketing services to help us with employer branding and social media recruitment. In addition, we held several recruitment campaigns on various radio stations.
All these measures have allowed us to grow from 1,800 employees in March 2020 to 2,400 today.
What Measures Were Taken to Protect Your Front-Line Employees?
A sizable majority of regular customers have offered them masks, goggles, visors and even hand sanitizing gel. We are very grateful for their cooperation.
For all new contracts, in addition to relying on the cooperation of clients, we have put in place a whole series of measures. For example, we quickly provide personal protective equipment (masks) to our employees. In other locations, we provided disinfectant gel, etc. In short, we were prepared for this eventuality.
On another note, we had to make more critical business decisions to proactively ensure the safety of our employees. For example, we turned down a contract that didn't comply with sanitary measures. It was simply unthinkable to send our staff into that situation!
Were Other Departments Affected Which You Weren't Expecting?
All departments were affected. Between March and June, economic activity was literally put on pause. Businesses weren't hiring, so there were very few background checks during that time.
Camera installations were also halted, as they were not essential and increased the risk of contamination.
Since the recovery in the early summer of 2020, our activities in these areas have gradually picked up and are now at the same pace as before the crisis, if not more!
What's Different about the Daily Life of the Employees at the Head Office?
We have between 40 and 50 employees working in our offices, and everyone's routines were changed, especially during the first wave.
All of the activities that we were able to do away from the office are now done through telecommuting. This includes all the accounting and billing activities. What has remained at the office is mainly dispatch and human resources.
The volume of work has literally exploded! As mentioned earlier, our employees in other areas of expertise have been helping out with the recruitment needs of the custodial staff. We also used temporary staff, especially for data entry, to reduce the workload of our teams.
We had a chance to breathe at the beginning of June 2020 and return to a more regular rhythm, but the remote work remains.
Many Companies Are Now Doing Their Hiring Remotely. Has There Been an Increase in Demand for Background Checks and Resume Accuracy?
Towards the end of May/beginning of June, requests for verification picked up to about 50% of regular volume. Gradually this increased to 100% and is now higher than before the pandemic began!
We see this department as a good reflection of the level of economic activity. As soon as hiring increases or decreases, the demand obviously follows the same trend.
Before the crisis, we had started working on our new Pre-Employment platform. We were able to devote more energy to it, and it is now available to our clients.
The Crisis Has Not Slowed Down the Investments You Make to Offer a Higher Quality of Service to Your Current and Future Clients. How Do You Explain That?
The context allowed us to invest for two reasons. First, we were able to free up time when business was slow. If you want to clean your car, you have to do it when it's parked, not when it's on the road. It's the same principle for a business.
There is also the financial aspect. The situation caused by the pandemic and the increase in volume has allowed us to free up money for investment.
We took advantage of this to modernize our management tools and automate some of our processes. We acquired the Agence Métropolitaine d'Investigation (A.M.I), known for its expertise in loss prevention, in order to complete our security offering. We also invested in improving our brand image and increasing our social media presence.
In short, we've really focused on automating our business processes to bring Gardium into the picture today.
To Conclude, How Would You Define 2020? And How Do You See the Next Few Months and Years for Gardium? For the Security Industry?
For the year 2020, I really have very mixed feelings!
On the one hand, for us, 2020 has been an opportunity to deploy, support and help the public. On the other hand, we know that it has been (and still is) an extremely difficult time for many people, who have lost their jobs or worse, loved ones. So we remain humbled by the opportunities we have enjoyed.
In a few words, I would describe 2020 as a very turbulent year. We have sailed through some very rough waters, but they have ultimately been favorable to us.
For Gardium, our business is solid and I am fully confident in its future and its continued stable progress.
For the industry, once the pandemic is over, I wonder how many agents will remain. In normal times, Quebec had about 19,000 security officers. We've gone up to 29,000. Of those 10,000 additional officers, some will return to their regular jobs, others will remain in our industry. How many will stay? The future will tell.
In conclusion, a few years ago, the industry began to professionalize the security guard trade, and I believe that the image of security guards overall has been positively affected by the pandemic. Security guards were actively involved with the public during the crisis and I am convinced that people now have a better view of this profession. For the industry, we must focus on training in order to continue reinforcing this positive image with clients. There is no doubt that we have made progress in the last 20 years!